As a follow-up to the last post, I would like to share some background on the development of my book. Though it revolves around my experience, the personal aspects are more general than specific. It was conceived that way to highlight, not my personality, but the process of coming to terms with the unconscious. In that sense, the figures formed from the conversations, though intertwined with the personal shadow, provided the doorway to the collective unconscious.
That process began in a very curious way. Goethe's Faust was behind it, as I'd been enthralled with it since my early twenties; and no wonder, for it worked in ways I couldn't conceive as a young man. By the time I was "in the soup" as Jung called it, at mid-life, I was fortunate to have both Goethe's wisdom and Jung's psychology to turn to. That transition, which really hit at thirty-five, hit hard for many reasons.
Not the least among them was the discovery that I was introverted in an extraverted world — not just a lost soul unable to conform to the mainstream. At forty, after five particularly destructive years of evading the process, something had to change. Slowly, as I quit fighting and yielded to it, it turned creative. All this was absolutely instinctive, as I had no real idea what I was fighting.
My intense study of Jung's work began at that time, and I was relieved to find that I wasn't going crazy. I began to pay close attention to my dreams, and they (and Jung) began to impress upon me that my rational thinking was "blocking my view of the universe" as John Nash once put it. That, of course, for a non-mathematician, is the symbolic world of unconscious emotion I'd long defied in my identification with the intellect.
Very soon, I was seized with a compulsion to draw, something I'd done in my youth though had left far behind in adulthood. The illustrations foreshadowed the process and came out of an intense two-week period of concentration in which I couldn't wait to get home and work at the images which emerged. I was so consumed by it, I saw black ink lines super-imposed on the road when I was driving. When the final eight pictures were finished, I was released and went back to my study of Jung.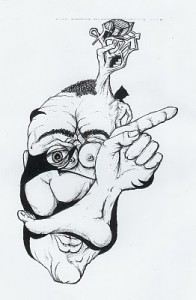 As repressed feelings surfaced at night, unable to sleep for the tension, I'd pull out my yellow legal pad and write; the only thing that seemed to relieve me. Certain things flowed out in an almost spontaneous verse which seemed very foreign. Some of the poems were of an older style, others had a feminine, emotional quality, and yet others were deeply critical; and moreover, each appeared in its own handwriting and in the third person. This went on for six years or so, and I began to see connective threads in them as I studied Jung.
The poems multiplied, and I sorted them according to handwriting and subject. If you'd asked me then what I was doing, I couldn't have told you. I stumbled along, studying in my spare time and writing off and on when the tension became more than I could bear. Along with the poems, my dreams began increasingly to revolve around religious and philosophical questions. I had little idea what was happening; I only knew something had taken me over.
Five years years later, as the process gained momentum, the poems I saved were about sixty pages. I had dreams that I was carrying them, and unkown figures were asking me about them. It slowly dawned on me what I was being driven to do all those years, and one dream shed particular light on it: I was walking from an underground railway station into the dawn of day, carrying my papers, and a strange man was walking beside me. He looked down at them: "What's that?" he asked curiously. I replied: "It came from the dark." He nodded approval.
A year later, I "sold my soul to the Devil" and applied myself consciously to the task. That was seven years ago. I can't and don't take credit for the depth of the ideas; for they did, indeed, come from the dark — from my dreams. I did, however, work around them to the best of my ability, for the unconscious accepts nothing less when one is drawn into this journey.
Neither can I take credit for its originality; for it, too, comes from a place where only gods may dwell — and they are not all quite human. I can take some credit for devoting my heart to it, though in retrospect, even that seems dubious. But, whatever we may have been taught about conscious and unconscious, man and nature, science and religion, I did learn this: things are not as they appear.
https://www.createspace.com/4648701